In the age of social media, cat selfies have taken the world by storm! From whisker-filled close-ups to adorable poses, these feline self-portraits have become a sensation. But let's be honest, getting your cat to cooperate for a selfie can be a hilarious challenge. Fear not, fellow cat lovers! In this uproariously entertaining blog, we'll dive into the whimsical world of cat selfies and share some tips and tricks to capture the purrfect picture. Get ready to unleash your inner photographer and embark on a laugh-out-loud adventure with your furry friend!
1. Choose the Right Location:
Finding the right backdrop for your cat selfie is crucial. Forget about elaborate sets—cats have a knack for stealing the spotlight no matter where they are. Whether it's a messy bed, a pile of laundry, or a cardboard box, embrace the chaos and let your cat's natural charm shine.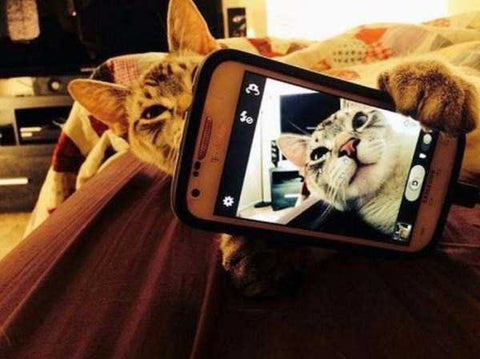 2. Master the Art of Temptation:
We all know cats can be a bit, well, selective. To grab their attention and lure them into the perfect pose, use some feline-friendly props. A feather toy, a dangling string, or even a laser pointer can work wonders. Just make sure you're quick with your camera because, trust us, those photogenic moments are fleeting!
3. Patience is a Virtue:
Cat selfies require the patience of a saint and the reflexes of a ninja. Be prepared to spend ample time trying to capture that elusive, award-winning shot. Cats have a knack for moving at the most inconvenient times, so stay calm and keep snapping. Remember, the outtakes are often the funniest!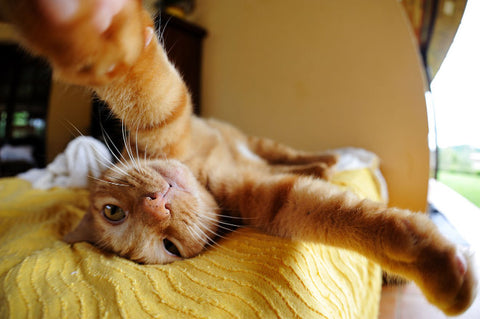 4. Catnip Magic:
When all else fails, unleash the power of catnip! Sprinkle a little catnip on your phone or camera, and watch as your cat becomes the ultimate selfie model. Just be careful they don't mistake your device for a chew toy or a scratching post. Safety first, laughter second!
5. Props and Accessories:
For an extra dose of humor and cuteness, experiment with props and accessories. Tiny hats, sunglasses, bowties, or even a miniature photo booth can turn your cat selfie session into a side-splitting spectacle. Just make sure your furry friend is comfortable and doesn't feel like a fashion victim.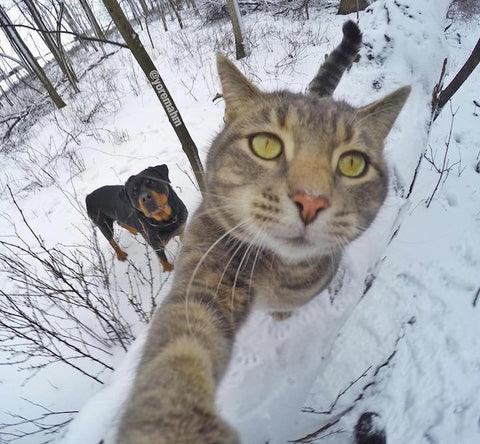 6. Embrace the Imperfections:
Let's face it—cats are masters of making funny faces and striking quirky poses. Embrace their unique personalities and capture those candid moments. A cross-eyed gaze, a goofy expression, or even a mid-yawn snap can turn a simple selfie into a comedy goldmine. Remember, imperfections are what make cat selfies truly unforgettable.
7. Treats for Tricks:
Positive reinforcement goes a long way when it comes to cat selfies. Reward your cat with their favorite treats for sitting still, looking directly at the camera, or even attempting a paw-some high-five. With some tasty incentives, your feline friend might just become the next Instagram sensation!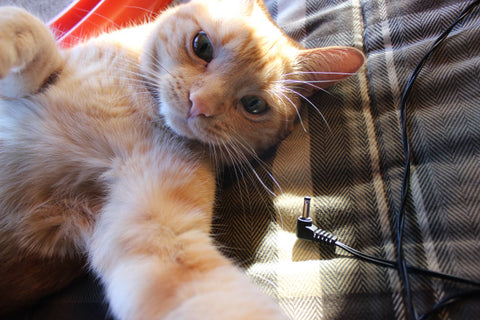 Conclusion:
The art of cat selfies is a delightful journey filled with laughter, patience, and a whole lot of feline charm. From choosing the right location to embracing imperfections, these tips and tricks will help you capture the purrfect cat selfie. So, grab your camera, stock up on treats, and embark on this whimsical adventure with your fur baby. Remember, the goal is not just the picture-perfect selfie, but the unforgettable memories and countless laughs shared along the way. Happy snapping, cat lovers! Meow-tastic selfies await!