Great kit to quickly and safely groom your pet. Easy to interchange the grooming heads from one to another but sturdy and works well to easily clean out the brush with a push of a button. Great brushes for your cats, and honestly you don't need any other brushes other than this!! The attachments are all great, you will love that the slicker brush has nubs on the end spot isn't sharp! The brushes are good quality also.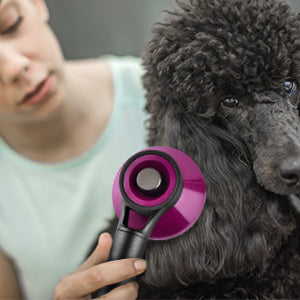 Humanized Dog Grooming Brush
Automatic Cleaning Dog Hair Brush: Comes with its own massage beads. Safe and convenient, Do not hurt hair and skin.

Automatic cleaning with one click. Whatever Long and short hair is easy cleaning for dogs and cats. Hair removal, Open knot, Massage care.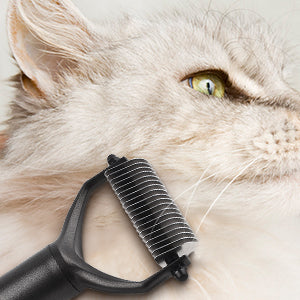 Strong & Durable Dog Dematting Rake
Stainless steel cutter head. It's strong and durable, and it takes less effort to comb.

It is best for cats and dogs' long curly hair. Can be used for hair removal, knot opening.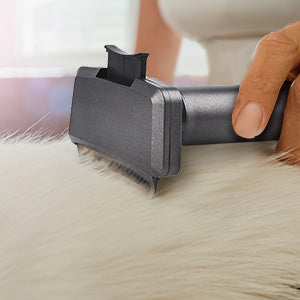 High Efficiency Dog Shedding Brush
Fine comb teeth one key operation, high-efficiency cleaning (Removing up to 95% of dead hair and tangles from your cat and dog easily IN JUST 10 MINUTES).

It is better for dogs' and cats' hair removal. Remove floating hair, open knot, daily cleaning care.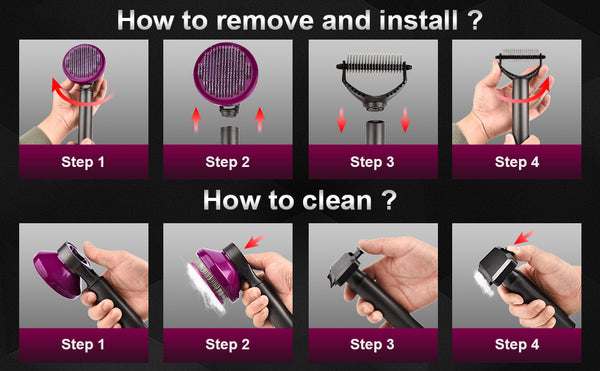 How to remove and install Fido Fave Dog Grooming Brush?
Insert the dog brushes into the top of the handle, screw the brushes clockwise until they can not be screwed.

If you want to replace the dog brush, just screw it counterclockwise.
How to clean Fido Fave Dog Grooming Brush?
Press the button on the back of the dog brush to get the hair released conveniently and easily
 Customer Reviews
Steven 

 The best loves it
I have used several grooming brush for my cat. This is the most suitable for her. It is also the best grooming brush in all of the brushes I bought. I have tried the glove but not as significant effectively as these brushes, which you can tell by my photos , And it also comes up with three types of head. I would highly recommend this brush to all of my friend.
Sooz 

 Excellent grooming tool
This is brilliant for our rather fluffy Cavalier King Charles Spaniel. Having 3 brushes and being able to switch heads mid-groom means less stress for the dog and fewer tools needed. All 3 heads do the job well, the 2 with the push button hair ejection are really easy to keep clean. The detangler works well without pulling too much. It's as good as any of the brushes we have but easier to use as it's all in one place. The only thing I'd add would be a drawstring bag to hold everything, that would make it even handier to use. It's a little bit on the expensive side but it is good quality and does replace 3 individual brushes.
Judith Clifton

 Very good value for money as you get a 3 in 1 product for your money
I loved the fact that this product was interchangeable. You get 3 different heads for 3 different jobs that this product can do. I used the very fine brush pin my dogs and went very careful with it. After you've used it you just push the button on top and it helps to push the hair right to the front of the bristles so you can get it off easily. You then just have to unscrew the handle to change the head it's that simple. I think this product is very good value for money as it gives you everything you need to give your pet a good groom even though not professional. 5* from me for a great product.