How often you feed your cat may depend on your schedule as well. Mornings may be hectic as you get the kids off to school and yourself off to work. Under those circumstances, feeding your cat may be easier in the evening.If you are running around a lot in the evening, feeding your cat may be easier in the morning .
Use a Fido Fave automatic cat feeder to find a schedule that works for your cat - and feeding at a fixed time.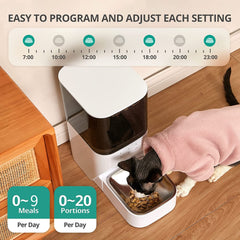 Flexible Timed Feeding
No more pre-dawn wake up calls, or worry when you are overtime at night! Easy to program automatic cat feeder with timer to dispense food in right time, 1-9 meals per day and up to 20 portions per meal customized healthy diet for your cats and dogs.
SUPPORT MANY PET FOOD
A REALLY 4L (17 cups) pet food dispenser that accommodates a wide variety of pet foods. Dry food, freeze-dried, and pellet food. Suitable for all grains less than 0.67in diameter. 4L capacity can support an adult cat( 12lbs ) to eat for about 25 days. 
High Quality 304 Stainless Steel-Dishwasher Safe
Cat feeder automatic entirely made of 304 stainless steel, it is BPA-free, rust and corrosion resistant. Only the stainless steel part can be washed in the dishwasher.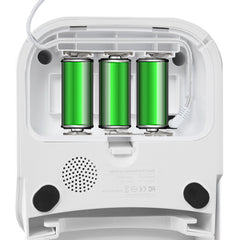 Plug Power & Backup Battery
Besides the USB-C adapter, the automatic dog feeder can also use 3 alkaline D-cell batteries(not included) as a backup power source to ensure that it can be used even if the power goes out, giving you peace of mind when feeding your furry friend.