When using the innovative, easy to use Fido Fave brush head, all it takes is one hand for a groomer-quality bath! Ergonomic and easy to use, you can control your dog, scrub, and soak, all while keeping yourself dry. Just flip up the shield to let the rubber teeth scrub your dog and flip it down to keep the water away from you and on your pet. Now you can have an extra hand to show your dog some love!
INNOVATIVE BRUSH DESIGN: No more getting soaked! Our patented rubber splash shield and sink faucet hose attachment will keep you dry as you wash your dog. Our massaging brush will feel great on your dog as you clean that messy fur. It's the ultimate choice in grooming comfort for both you and your pet.
CONNECTS DIRECTLY TO YOUR SINK FAUCET: This kit will connect to most sink faucets with a removable aerator. (YOU MUST HAVE A THREADED FAUCET) 5 metal faucet adapters are included that will fit most sink faucets. THIS IS NOT A UNIVERSAL FIT. YOUR FAUCET MUST HAVE A REMOVABLE AERATOR.
CONNECTS TO A GARDEN HOSE FOR OUTDOOR BATHING: The kit includes a metal garden hose adapter which allows you to take the bath outside by connecting the recoil hose and shower brush to your garden hose. Enjoy a stress-free and enjoyable bath time!
Customer Reviews
Emerald Eyes 
 Thoughtful Design
This may be the best pet accessory I have purchased yet!!! Super easy to install on our utility sink. Love how you can keep the water flow at the ready given the easy on/off switch on the shower head. Genius!!! The website has great tutorials on how to install. Super helpful!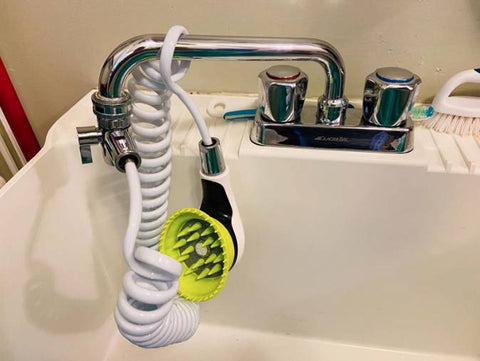 Monica A. Asca  

 Definitely worth to buy!
Super easy to install all but less than 3 minutes! Bathe my yorkie and she enjoyed the massage also!